Today I'll be participating in Wishlist Wednesday from Pen to Paper. So what do I want to read: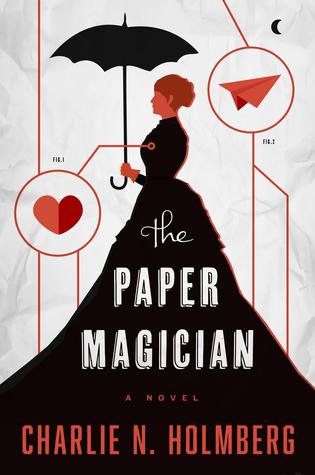 The Paper Magician by Charlie Holmberg
At the start of December, I stumbled on The Paper Magician on someone elses blog (sadly, I can't remember whose it was…). The idea behind the story is that magicians are trained to only work in one element, and Ceony Twill would love to work in metal. Sadly, she's been assigned to work in paper and is sent to learn from a paper magician (perhaps THE paper magician?). At some point, I heard it compared to The Night Circus.
Now, I could probably dowithout the romance that apparently blossoms between Ceony and her teacher (I'm very picky when it comes to romance in books and often times what's written doesn't so much capture my imagination as it does make my eyes roll). But I was very interested in this idea about restricting magic to only one medium, and I'm curious of what paper magic will involve.
I requested the book and its sequel, The Glass Magician, from my local library. They were already ordering the books and a few days later I noticed the hold status changed from"on order" to "pending", And I thought 'Oh great! They must've received the books and now just have to process them." Unfortunately, the processing (or whatever they're doing) is taking FOREVER.
So everyday I check back in to see if it's ready for pick up. I can only hope that day will come soon.